There is no doubt that Montañita is the best known beach in Ecuador. Its bohemian atmosphere that includes good waves and party makes it the preferred resort for young people and tourists (mainly backpackers) who are looking for this type of place to enjoy a crazy vacation.
And we can confirm that: as soon as you arrive to Montañita, you can feel the energy of the place, and regardless of the time, you want to enjoy the beach with an ice cold beer or go out to party (even if you do not like to party).
But Montañita is not just wild crazy nightlife. It is also one of the best surf spots in the country; it has a varied gastronomic diversity due to the settlement of foreign citizens from different parts of the world; and offers countless outdoors activities for you to get to know the surroundings of this commune of Santa Elena.
Here is a glimpse of this unique beach town.
IMPORTANT: If you are more into a calm beach – or even a luxury one – THIS PLACE IS NOT FOR YOU!! In past years, Montañita has become so popular that is always crowded on weekends, especially in beach season. And sadly, many tourits does not keep it clean. But it's worth getting to know it, even if you just stay for the day.
Information about Montañita
Location
Montañita is located in the province of Santa Elena, between the beaches of Manglaralto and Olon, in the Spondylus Route.
This surf town belongs to the Manglaralto Parish, which houses the Chongon Colonche Protective Forest. Precisely because it is surrounded by hills (mountains), the beach receives its name (montañita = small hill).
Montañita is divided into four sectors: Downtown, Barrio El Tigrillo, La Punta (Baja Montañita) and the beach itself.
To get to the El Tigrillo neighborhood, if you go from south to north, you must pass the bridge of the commune and turn right on the first road.
La Punta is at the end of the beach, facing the rock (towards Olon). This area is much quieter than the town.
Weather
The best time to enjoy Montañita is in the Ecuadorian beach season, which runs from December to April, as the weather is around 25 – 29ºC and the ocean water is quite warm.
But since Montañita never rests, the summer season is also good (from May to November), although it is more cloudy, the water is a bit colder and the weather is around 20 – 23ºC.
Important facts
You will find a TÍA (food market), Banco Bolivariano, Western Union, 3 ATMs, neighborhood shops, Spanish classes. Overall, Montañita is quite complete and you will not need to go to another beach to stock up.
Although there are no currency exchange agencies, some shops and stores can change you from euros to US dollars. But it is preferable that you arrive in Montañita with US dollars.
Credit / debit cards are accepted in almost all stores.
The hospital in Manglaralto is 5 minutes from the commune, although if you require a private hospital, you have to go to Salinas – La Libertad, which is 1 hour and a half from the beach town.
The Californian band One Drop dedicated a song to Montañita.
Beaches near Montañita
Montañita can be your starting place to discover other beaches in the Route of the Sun:
Is Montañita safety?
This is a fairly frequent question, both by Ecuadorians and foreigners.
Although in previous years there have been cases of insecurity in Montañita, the commune itself has reinforced their security protocols and you will constantly see police patrols prowling the town.
In fact, local people is fighting against foreign crime that has been damaging the reputation of this beach, especially because its inhabitants are the ones who are affected by this situation as Montañita lives mainly from tourism.
However, this does not mean that there is no insecurity, even more when the beach receives hundreds of tourists every weekend (is one of the beaches that receives the most tourists in Ecuador).
Unfortunately like any place in Latin America, foreign and local tourists must be aware of not accepting drinks from unknown people, not carrying objects of great value while going out, among others.
Things to do in Montañita Ecuador
Before enjoying the beach itself, take the time to visit the downtown Montañita. You will find several food stalls, bars, cafes, craft stalls, stores selling clothing or sports accessories, etc.
Walk through it and feel the vibe of the place.
The Malecon of Montañita is renovated and is an ideal point to take photos of the beach. This boardwalk also functions as a breakwater when there are huge waves, as it is 2.5 meters high.
You can also walk to La Punta and enjoy the beach in this area that is usually not crowded. Here you can even go camping if you like.
Also read: Beaches to camp in Ecuador
Although be careful with the sea in this area: it becomes a bit more aggressive (it's a surfing spot). If you are already there, take a photo at the Surfer Monument.
And if you like to walk, from here you can go to Olon beach.
Outdoor activities in Montañita beach
You can do paragliding, zip-lining, trekking, surfing, horseback riding, even diving trips in other nearby beaches.
We recommend you approach a tour operator. Almost all of them offer this type of adventure tours, either visiting Montañita beach, the Dos Mangas commune and other attractions in the Chongon Colonche Mountain Range where you will see waterfalls and the diverse flora and fauna of the place.
Humpback whale watching tours are also offered, and even tours to other resorts in the north of the country such as Los Frailes Beach, Agua Blanca, Salango Island, etc.
Check theses activities:
Restaurants in Montanita
Due to the large number of foreigners who have settled in this surf town, Montañita has developed a UNIQUE gastronomic diversity beyond the typical dishes of the Ecuadorian coast.
Here you can find artisan pizzas,grills, artisan bread, crepes, sushi, empanadas, ice cream parlors, etc., from different parts of the world: Argentina, Peru, Italy, France, Chile, etc.
If you are a foodie, you should definitely take the time and make a gastronomic tour in this beach town. However, here we recommend you our favorite places:
Rastapan

Tiki Limbo
Marea Pizzeria
Papillon creperie
Surf in Montañita
This surf town is recognized as the City of Surfing in Latin America for being a site closely linked to this sport.
That is why it is also considered the Surf Capital of Ecuador and has one of the best right-hand waves in the country that reaches up to 3 meters in height.
It is actually a beach for more experienced surfers if you decide to surf at La Punta, the main surf spot in Montañita. This sector has strong waves and becomes dangerous if you do not master the sport.
LA PUNTA
Swell: S / SW / NW / N
Category: point break
Wave direction: right
Recommendation: high and low tide, no wind
Observations: watch out for rocks when entering and exiting. At low tide paddle carefully over the rocks
But if you are a beginner and want to take surf classes, you can find surf schools that develop their activity in other spots of the beach that are suitable for beginners.
National and international surfing championships have been held on Montañita beach, and it is the birthplace of one of the greatest surfing representatives that Ecuador has had: Dominic Barona (Mimi).
PUEBLO
Swell: S / SW / NW / N
Category: beach break
Wave direction: left and right
Recommendation: high and low tide, no wind
Observations: be careful with the undertow/undercurrent
Also read: Where to surf in Ecuador?
The Street of Cocktails (Calle de los cocteles)
This is a well known area for having various cocktail stands on both sides of the street. They attend since the afternoon and stay all night long.
It is actually quite picturesque and here you can start "the preli" (pre-party) of the nightlife in Montañita.
Prices range from $1.50 to $6 per cocktail.
Party and nightlife
Downtown Montañita is where the party bursts. Here you will find all kinds of bars with live music and discos, from places where you can dance pure reggaeton to a unique place where you can listen to the best electronic music in the world.
Restaurants and food outlets are also lit at night.
Among the places that you should not miss during your visit are:
Lost Beach Club, one of the most popular electronic music clubs in Latin America.
Cañagrill, a cradle bar in Montañita where they play live music.
Nativa Bambu, one of the largest nightclubs in the beachfront area.
How to get to Montañita?
From Guayaquil
The journey by car takes about two and a half hours, taking the E40 road and then the E15 road at the turnoff to San Pablo (Baños de San Vicente).
If you travel by bus, you can take the Cooperativa Libertad Peninsular (CLP) that you can pick up at the Terminal Terrestre of Guayaquil. This leaves you directly in Montañita. The cost of the ticket is $6,25 – $7 and the travel is approx. three hours.
From Quito
You have several options:
Travel to Guayaquil in Transportes Ecuador ($10) and from there take the Cooperativa Libertad Peninsular to Montañita.
Travel to Puerto Lopez in Reina del Camino and then take a bus (Cooperativa Manglaralto) that goes south towards Salinas, but you get off at Montañita.
Closest airports to Montañita
The closest airports to Montañita are:
International Airport: Jose Joaquin de Olmedo Airport in Guayaquil.
Other airports near Montanita: Manta airport (Manta), Reales Tamarindos Airport (Portoviejo).
Hotels in Montañita
The beach offers a variety of accommodations, from 3-star hotels to hostels that fit any budget. You can find it in the center of the commune, in La Punta or in Barrio El Tigrillo.
Prices range from $10 to $200 per night. We even rented a room once that cost us $6, but obviously for the price it was a very, very simple place.
If you are one of those who cannot sleep with noise, our recommendation is that you stay in places far from the center of the party (Downtown Montanita). We recommend you this by experience: in one occasion we stayed in a hostel right next to Cañagrill and it was as if we have never gotten out of there hahaha.
You can go to La Punta or Barrio el Tigrillo. But it all depends on your budget.
Recommendations:
Hotel Kundalini
★★★★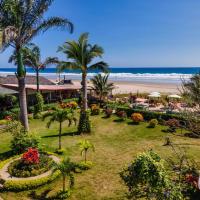 Este alojamiento está a 6 minutos a pie de la playa. El Hotel Kundalini está ubicado frente al mar, a solo 2 minutos a pie del centro de Montañita, y cuenta con amplias zonas verdes. Hay WiFi gratuita. La tarifa incluye un desayuno diario a la carta.
Show price
Finally we leave you with a little taste of Montañita from the point of view of a foreigner:
More information about Montañita: www.infomontanita.com/es/