Los Frailes Beach is considered the most beautiful beach in Continental Ecuador.
It is also one of the few beaches considered "virgin" because you will not find any urban infrastructure, no shops, no garbage and absolutely nothing other than the sea, its whitish sand and its vegetation.
Playa Los Frailes is definately a MUST in your bucketlist if your goal is to visit the best beaches in Ecuador.
In this post, we will show you everything you need to know to visit this protected area of the Ecuadorian coast.
Information about Los Frailes Ecuador
The beach is a refuge for several species of animals such as iguanas, howler monkeys, anteaters, deers and more than 200 species of birds.
It also has a diversity of flora that includes a dry forest with the presence of cactus, muyuyo or palo santo, a similar environment you can see at the Galapagos Islands.
That's why Galapagos tourist guides often say that Los Frailes is the resort that most resembles Galapagos's beaches.
Local people say that the name "Los Frailes" is due to the fact that in the past there were large quantities of the ovo frailes plant on the beach. But with time and dryness, the plants died.
Location
The entrance to Los Frailes is located between Puerto Lopez and Machalilla, in the Spondylus Route.
It is exactly 10 km (6.2 miles) after Puerto Lopez if you travel from south to north, or 2 km (1.2 miles) after Machalilla if you travel from north to south.
To get to the resort, you have to enter the Machalilla National Park through "Vía de Acceso a Playa Los Frailes" (as you can see on the map). There you will arrive at a checkpoint where you will be asked to show your ID, either the ecuadorian ID card or the passport for foreigners.
Then you can take two paths to get to the beach (one more extensive than the other), which go through a dry forest. You can go by car, on foot or paying tuk-tuks (it costs $1 per person).
The entrance to the beach is FREE, but if you go in your own car, you will be charged $2 for the parking lot.
Opening times
Even thouh is a public beach, Los Frailes is within a protected area. So, you cannot stay until sunset. The new opening hours in Los Frailes is from 09:00 to 15:00, from tuesdays to sundays.
Formerly the beach was open from 08:00 to 16:00.
Prohibitions
It is totally prohibited:
To camp.
Make fires.
Pets.
Throw away garbage.
Smoke.
Drink alcoholic beverages.
What to do in Los Frailes beach?
Los Frailes is the only beach in continental Ecuador with whitish sand and totally clean turquoise waters.
Here you can relax in the main beach, or you can adventure yourself and go hiking to visit other nearby beaches, o get to the ocean and do snorkeling.
Los Frailes Trail
There are two walking trails in this beach that will take you to different tourist spots in the area. But one is much more extensive than the other.
The Los Frailes Trail is the longest with an extension of 3 km (1.8 miles). The walking trail is in the middle of nature and it will take you about two hours on foot to complete it.
This starts near the gatehouse at the entrance of the national park and runs through various tourist spots: the Islote Sucre Viewpoint, Playa Prieta, Playa Tortuguita, Las Fragatas Viewpoint and the main beach of Los Frailes (in that order).
The second trail is shorter and takes you directly to the parking lot and the main beach. This is the one that most tourists tend to take because it takes almost 15 minutes by car or motorcycle.
Playa Prieta, Playa Tortuguita and Playa Los Frailes
This resort is made up of three beaches: Playa Tortuguita, Playa Prieta and Playa Los Frailes.
Playa Prieta owes its name to the black tones that you will see in its sand, due to the iron that is concentrated in this site. In front of the beach you will see the Islote Sucre. But bathing is prohibited due to the amount of rocks and its strong current.
Playa Tortuguita is longer than Playa Prieta and is usually a nesting site for sea turtles. Likewise, it is not allowed to bathe in its waters. In front of this beach you can see the Tortuguita Islet.
Last but not least, there is the main beach "Playa Los Frailes". Here you can get into the water, but always with due care.
The beach is 1.4 km long, its sand is white and its water is almost crystalline with shades of green to turquoise. Which is ideal for practicing surface diving (snorkeling) and seeing the corals and their diverse marine fauna.
This beach is quite reminiscent of Tortuga Bay in Santa Cruz (Galápagos).
Mirador Las Fragatas and Mirador Islote Sucre (viewpoint)
The Mirador Las Fragatas is an excellent spot for photography lovers, or simply to enjoy the landscape from above.
This is the most popular viewpoint of the beach, located on the top of the north cliff, and from where you can take the classic photo with a view of the other beaches in the area and the Islote Sucre and Islote Horno de Pan (islets).
There is also another little crowded viewpoint on the Los Frailes Trail, called Mirador Islote Sucre, where you can see the islet of the same name and Machalilla beach.
Nearby beaches
Recommendations
If you plan to visit Los Frailes beach and you live far away, it is best to stay at other nearby beaches since this spot does not have hotels or any type of accommodations.
Hospedaje Algarrobo Machalilla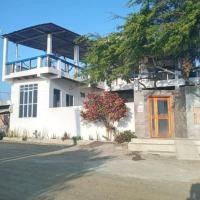 ¡Puedes conseguir un descuento Genius en Hospedaje Algarrobo Machalilla! Para ahorrar en este alojamiento, solo tienes que iniciar sesión.
Show price
Hostería del Parque
¡Puedes conseguir un descuento Genius en Hostería del Parque! Para ahorrar en este alojamiento, solo tienes que iniciar sesión.
Show price
La Fogata
¡Puedes conseguir un descuento Genius en La Fogata! Para ahorrar en este alojamiento, solo tienes que iniciar sesión.
Show price
Hostería Mandála
★★★★
¡Puedes conseguir un descuento Genius en Hostería Mandála! Para ahorrar en este alojamiento, solo tienes que iniciar sesión.
Show price
Nautilus Lodge
★★★
El Nautilus Lodge se encuentra en Puerto López, a 800 metros de la playa de Puerto López, y ofrece alojamiento con piscina al aire libre, aparcamiento privado gratuito, bar y jardín. Ofrece habitaciones familiares y terraza. Hay recepción 24 horas, servicio de habitaciones y servicio de organización de excursiones.
Show price
It also does not have bars or food stalls, so you better bring your snacks and water. But do not forget that it is MANDATORY to carry a bag so that you can store your waste.
To walk the trails, trekking shoes or footwear are recommended. However, from our own experience, we have done the tour in flip flops and everything was fine.
Bathrooms and showers: The beach has bathrooms / dressing rooms and showers that cost $0.25 and $1 respectively. The use of soap and shampoo is prohibited. The shower is only for you to wash off the sand. Remember that it is a nature reserve.
Parking: If you drive your own car, the parking lot costs $2 all day at the beach. Remember to go early as this is usually crowded (especially in beach season).
Parasols and snorkel equipment rental: The rental cost is $5 all day in case you need a parasol. You can also rent snorkeling equipment.
Handicraft shop: It also has a souvenir and handicraft shop in case you want to take a souvenir from the beach with you.
How to get to Los Frailes?
From Guayaquil
It takes about three and a half hours by car. If you travel by bus, it is a little more.
If you go by bus, you can take one from the Terminal Terrestre de Guayaquil that goes to Olon (Cooperativa CLP), which will cost you $6,25. You get off in Olon and grab another one that goes to Puerto Lopez (try to tell the driver to stop), which is usually costing around $2 to $3.
From Puerto López
You can take a mototaxi or if you are in a group of four, take a taxi that leaves you to the sentry box of the beach.
From Quito
If you go by bus, you can go in the Cooperativas Transesmeraldas, Panamericana or Coacturs. Its cost is $10 and is a very long trip: it lasts almost 9 hours. The best thing to do is to travel the day before to Puerto Lopez and then visit Los Frailes (all by bus/car) or to flight to Manta and then go to Los Frailes.