At 12 minutes north from Salango beach is Puerto Lopez, a beautiful beach resort known as an "Ecological and tourist city".
Ecological because it has a diverse ecosystems from tropical dry forest to humid forest, each with its varied fauna. And touristic because you can do much more than just enjoy its beaches: visit archaeological communes, observe humpback whales, do outdoor activities, visit other natural areas, etc.
This beach is ideal for family vacations because you will find good accommodations, restaurants and supermarkets. And is also an excellent starting point to visit the attractions of the Machalilla National Park, like Los Frailes beach, Isla de la Plata, Isla Salango, etc.
we have gathered 10 things you can do in Puerto Lopez beach and its surroundings, in case you are interested in making it a vacation destination.
Information about Puerto Lopez
Location
Puerto Lopez is located between Salango and Machalilla (Manabi), on the Spondylus Route.
It is 8 km north from Salango, and almost an hour and a half south from Manta.
Weather
Its average climate is around 25 °C.
However, there are two seasons of the year: from January to May, the rainy season and the hottest one too which can reach up to 30 C. And from June to December, the dry season with climates that usually reach 19°C.
Beaches near Puerto Lopez
| | |
| --- | --- |
| Manta | 98 km |
| Puerto Cayo | 33 km |
| Los Frailes | 13 km |
| Machalilla | 12 km |
| Ayampe | 21 km |
| Montañita | 46 km |
Movilization within puerto Lopez
The city is relatively small for sightseeing on foot. But for long distances (if you do not travel in your own car), you can move around in the tricimotos that charge you between $0.50, $1 or maximum $2 depending on the place you want to go and the amount of people.
What to do in Puerto Lopez?
Besides from enjoying its beaches, Puerto Lopez offers a diversity of activities in its surroundings. Some are ideal for those who like adventure (long walks), while others are just short tours.
Malecon, Pier and main beach
The Puerto Lopez Pier is a mandatory spot to admire the beach, the fishing boats and take photos. In addition, along the pier you will find several craft stalls and people who sell you tours to visit the nearby islands.
The new Puerto Lopez Malecon "Julio Izurieta" has given a new face to the beach town. There is a wide variety of restaurants on the boardwalk and within the city where you can enjoy the typical food of the Manabi coast, although lunch and à la carte dishes are also offered.
You can tour the city on foot, on horseback or rent a bicycle.
The beautiful beach of Puerto Lopez is clean and it's waters are calm for bathing. If you do not have a parasol, throughout the beach you will find parasols and rental tents that cost around $5 to $10 a day. There are also bathrooms and dressing rooms that cost $0.25 and $1 respectively.
If you want to enjoy cocktails while sunbathing, you will also find small stalls or "cabañas" that offer alcoholic beverages.
Mirador Puerto Lopez
If you travel from south to north, you can see Puerto Lopez beach from a viewpoint high above town.
From this mirador you have a spectacular view of the whole beach and the city.
Los Frailes beach
Puerto Lopez is an ideal spot for visiting Los Frailes, one of the most beautiful beaches in Ecuador located within the Machalilla National Park (PNM).
Los Frailes is an excellent resort to have a wonderful day. Entrance to the beach is free, but is only open from 09h00 to 15h00 from tuesdays to sundays.
Also read: Playa Los Frailes, Ecuador
Isla de la Plata
Within the Machalilla National Park there is also the Isla de la Plata, one of the most visited dive sites on the Ecuadorian coast.
Isla de la Plata is also called as the "Little Galapagos" due to its varied marine life and for being one of the few laying and breeding sites of the blue footed booby and frigates.
The island is reached by boats that depart from Puerto Lopez. Tours cost around $35- $40 per person.
Hiking is also done on the island accompanied by a park guide.
Salango Island
Salango Island is another surface diving and snorkeling site that is part of the Machalilla National Park and which is reached by boat.
Here you can observe a diversity of birds such as blue-footed boobies or seagulls; dive and admire the coral reefs in the Parcela Marina and appreciate the vegetation of the area.
Sendero Bola de Oro
Other attractions of the Machalilla National Park are the Sendero San Sebastián and the Bola de Oro, a long journey through trails located in the mountainous area of the Cordillera de Chongón y Colonche.
This tour is only suitable for those who like adventure and walking, because it takes about 5 hours to walk to reach the Bola de Oro, where you can camp. But there are also horseback tours that speed up the journey.
Here you can see the endemic vegetation and fauna of this tropical humid forest.
Whale watching
Whale watching is one of the major tourist attractions in Puerto Lopez from June to September, the humpback whale season.
There are many agencies that offer tours to watch the famous humpback whales that travel from Antarctica to the Ecuadorian coasts to mate.
In Puerto Lopez there is algo a thing called Humpback Whale Festival which takes place in June, the date that coincides with the Inti Raymi in the community (a tribute to the summer solstice) and where the "Whale Sponsorship" program takes place.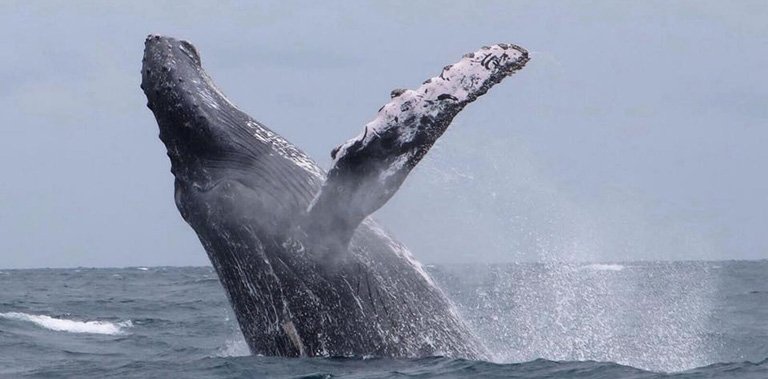 Agua Blanca Commune
Agua Blanca is an archaeological commune located 12 km from Puerto Lopez. It has a museum where you can appreciate the vestiges of the Manteña Culture and the Machalilla Culture that inhabited these lands more than 5000 years ago.
There is a natural sulfur lagoon where you can bathe, and you can even put mud all over your body and then bathe in the lagoon. Both activities are considered medicinal in the area. But I must warn you that the lagoon has a bad smell because it is sulfur.
You can also go hiking, biking or even camping. All with the due care and respect that the commune deserves, as it is a place where ancestral cultures settled.
This area was the settlement of ancestral cultures of the Ecuadorian coast such as the Machalilla, Manteña, Chorrera, Guangala and Bahía cultures.
Night life in Puerto Lopez
Puerto Lopez's nightlife is quiet. On the Malecon they usually open small bars near the beach where you can drink and dance.
But if you are one of those who is looking for a very active nightlife like that of Montañita, it may not be the right place. However, Puerto Lopez is almost an hour from Montañita in case you want to get a little getaway.
Also read: What to do in Montañita?
Snorkeling, diving, subwing, surfing, paragliding
Throughout the beach you will find tour operators that offer you snorkeling or diving tours to Isla de la Plata or Isla Salango. Their prices range from $20 to $50.
You can also venture to do subwing or go kayaking around Islote Sucre or Los Ahorcados. Or you have the option of bodyboarding, sailing and surfing on the beach.
Also, if you are a height lover, you can do paraglaiding.
Hotels in Puerto Lopez
Being a tourist spot on the Spondylus Route, Puerto Lopez has a variety of hotels and hostels that fit any budget.
Hostería Mandála
★★★★
¡Puedes conseguir un descuento Genius en Hostería Mandála! Para ahorrar en este alojamiento, solo tienes que iniciar sesión.
Show price
Nautilus Lodge
★★★
El Nautilus Lodge se encuentra en Puerto López, a 800 metros de la playa de Puerto López, y ofrece alojamiento con piscina al aire libre, aparcamiento privado gratuito, bar y jardín. Ofrece habitaciones familiares y terraza. Hay recepción 24 horas, servicio de habitaciones y servicio de organización de excursiones.
Show price
Casa de Fiona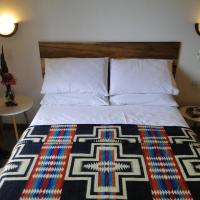 ¡Puedes conseguir un descuento Genius en Casa de Fiona! Para ahorrar en este alojamiento, solo tienes que iniciar sesión.
Show price
Hosteria La Terraza
★★★★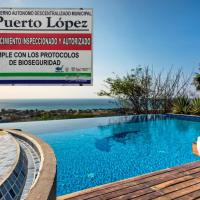 La Hosteria La Terraza se encuentra en Puerto López, donde podrá practicar actividades como pesca y buceo o aprender español. Ofrece piscina exterior, restaurante y conexión WiFi gratuita.
Show price
CASITA MADAME
★★★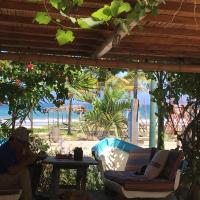 La CASITA MADAME se encuentra en Puerto López, a pocos pasos de la playa de Puerto López, y ofrece alojamiento con restaurante, aparcamiento privado gratuito, bar y jardín. Hay servicio de habitaciones, consigna de equipaje y WiFi gratuita en todas las instalaciones. El establecimiento ofrece habitaciones familiares.
Show price
How to get to Puerto Lopez?
The only way to get to the beach is by land. If you live far from Manabi, the closest airports are in Manta and Portoviejo. But the cheapest route will always be by land.
From Guayaquil
If you go by car, you can take the Spondylus Route: go along the E40 road and at the detour to San Pablo take the E15 and continue along (as can be seen on the map). The tour lasts approximately 3 and a half hours.
If you go by bus, at the Terminal Terrestre you can take the Cooperativa de Transporte Jipijapa that travels directly to the beach, or the Cooperativa Coactur. The cost is $5- $6. The tour lasts approximately four hours to reach Puerto Lopez beach town.
From Manta
You can take a bus at the terminal, either from the Cooperativa Libertad Peninsular or Reina del Camino. The trip takes about two hours. The cost of the bus is $2.50.
If you do it in your own car, the route is a little less.
From Quito
The trip by land is quite long and lasts about 9 hours. On the map you can see the route if you want to do it in your own car.
If you take a bus, from the Quitumbe terminal you can take the Cooperativa Reina del Camino that takes you to the beach. The cost is $9.
Photo credit: Stefano De Andrade | multipasajes.travel | Chokotrip