Ayangue is one of the most visited beach towns by the community of divers and freedivers in Ecuador due to its proximity to the most important diving spots on the Spondylus Route in the province of Santa Elena.
In addition, it differs from all other beaches due to its geographical conditions that give this beach calm waters. That is why it was named "The Pool of the Pacific".
In this post we will detail all the information about this beach town for you to enjoy with your family.
Information about Ayangue
Location
Ayangue is a commune of the Colonche parish (Santa Elena), located between Playa Rosada and San Pedro beach, 42 km from the Terminal Terrestre of Santa Elena.
The beach is 3 km long (1,8 miles long) and is a U-shaped bay with cliffs and vegetation around it. Its population has historically been dedicated to artisanal fishing and handicraft production.
The Chongón Colonche mountain range embraces Ayangue, and its hills cover several kilometers of sea which leaves a defined beach with calm waters. This creates the perfect conditions for diving and snorkeling.
Ayangue Map
Weather
The average temperature of Ayangue varies between 22°C to 30°C, depending on the time of year.
However, due to the mountains of the Chongón Colonche mountain range that surrounds it, it manifests a cooler climate.
Nearby beaches
What to do in Ayangue?
This resort is an excellent place for a calm weekend: its calm waters make it a suitable place for children and inexperienced bathers; there is a diversity of food places near the beach and a beautiful malecon where you can enjoy drinks and cocktails; and countless activities ranging from horseback riding to water sports.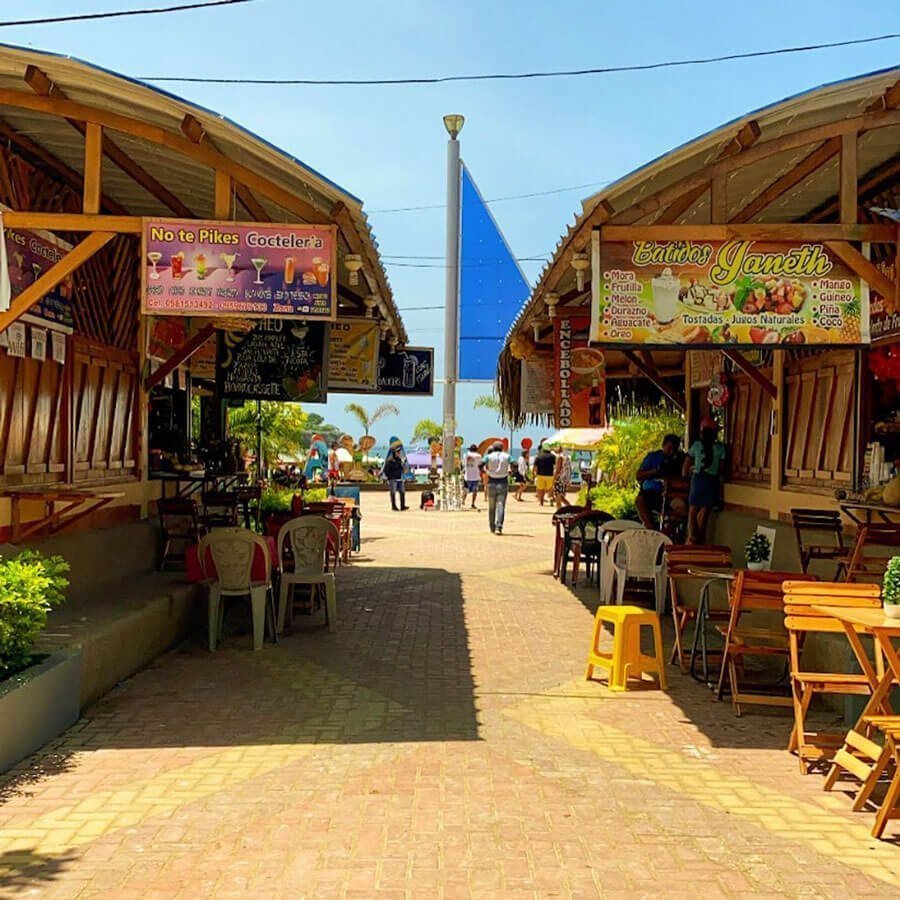 Diving, apnea or snorkeling
Ayangue is your ideal place if you want to learn or practice diving, apnea or snorkeling.
I remind you that there are PADI Resorts that specialize in this sport, not only in Ayangue but throughout Ecuador. Divers and freedivers come to this beach town to dive in El Pelado Islet, Bajo Cope, among other diving spots where the diversity of fauna is appreciated.
Here you can read more about diving in Ayangue. You can do it to get certified or as a family outing to learn a little more about this sport.
Restaurants in Ayangue
In Ayangue you can enjoy the typical gastronomy of the Ecuadorian Coast. Their specialties are: Seafood Tapao, Ayanguero Rice and Ayanguero Lobster.
Here is the map with all the food restaurants in Ayangue.
Boat rides and whale watching
There are also boat rides that depart from Ayangue beach to El Pelado Islet to observe sea lions, turtles and other marine species. The cost is around $20 per person.
Fom June to September, you can also take whale watching tours.
Hikes, excursions, horseback riding, paragliding
You can venture on foot to certain little crowded beaches such as Las Puntas or Playa La Morilla. Or go horseback riding along the main beach.
You can also take an excursion to the Dos Mangas Humid Forest, on foot or on horseback.
You can even do paragliding in San Pedro, as it is 12 minutes from Ayangue.
How to get to Ayangue?
From Guayaquil
Ayangue is 120 km from Guayaquil; a trip that takes about two hours by car or bus.
If you travel by bus, at the Guayaquil Terminal Terrestre you must take the Cooperativa Libertad Peninsular (CLP) and take off near the entrance to the beach. There you will find a taxi service that will take you along the 3.8 km of the path to get to the beach.
If you travel by car, you must take the E40 road until the detour in San Vicente, and then continue on the E15 until you reach the town.
Ayangue Hotels
Ayangue has a good range of accommodations that fit any budget. There are even hostels that offer you camping areas if you want to venture.
Also read: Places to camp on the Ecuadorian coast
Here we present you some options to stay in this beach resort:
Sol de Ayangue
★★★
¡Puedes conseguir un descuento Genius en Sol de Ayangue! Para ahorrar en este alojamiento, solo tienes que iniciar sesión.
Show price
Cucube
★★★
El Cucube se encuentra frente a la playa de Ayangue y ofrece jardín y WiFi gratuita. Hay aparcamiento privado gratuito y servicio de enlace con el aeropuerto por un suplemento.
Show price
Muyuyo Lodge
Este alojamiento está a 1 minuto a pie de la playa. Estos bungalows rústicos de bambú se encuentran en un pequeño acantilado situado frente a la playa de Ayangue y ofrecen vistas al jardín o al mar. Este lodge proporciona acceso directo a la playa y WiFi gratuita. Además, se pueden reservar actividades de parapente o excursiones de senderismo. El establecimiento está a 5 km del centro de buceo Islote El Pelado y facilita aparcamiento privado gratuito.
Show price
Playa Aventura Hotel
★★★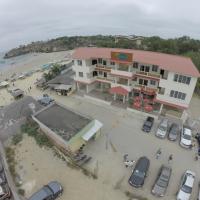 Este alojamiento está a 1 minuto a pie de la playa. El Playa Aventura Hotel se encuentra en Ayangue y ofrece restaurante, piscina al aire libre, bar y salón compartido. Este hotel de 3 estrellas ofrece WiFi gratuita, recepción 24 horas y servicio de habitaciones. Hay aparcamiento privado gratuito y servicio de alquiler de bicicletas.
Show price