Olon beach is one of the best beaches in Ecuador. It is only 8 minutes far from Montañita, but its environment is totally different.
The beach is approximately 4.34 miles long, which makes it one of the longest on the Ecuadorian continental coast. This is great because you will hardly ever find it crowded. And if it does, there is enough space for people to chill without crowding.
According to local people, the name of this beach town means "Great Wave" in spanish (Gran Ola = Olón) because it is what is formed before breaking at La Punta in Montañita. It is a good place to surf or take your first classes in this sport.
This surf beach town is clean and calm, preserving the hippie style of Montañita (just a bit) due to the backpackers who settle in the area, but it is much calmer.
Believe me, much calmer! Without so many people, no noise, no music everywhere.
We do like to party for one or two days, but not all the time. So if you are like us, after spending two days partying in Montañita I recommend you to go and relax at Olon beach.
Information about Olon in Ecuador
Location
Olon beach is located between the beaches of Montañita and Curia, in the Spondylus Route of Santa Elena province.
Weather
The climate varies according to the time of year. When is the beach season of Ecuador (December – May), the weather is quite hot and sometimes rainy. It reaches almost 28°C (82°F), but there is always the sea breeze that regulates how strong the sun could get.
In summer (June to November) it becomes quite cold for the ecuadorian coastal people, reaching up to 22°C (72°F). At this time, we go with coats and surf with wetsuit . But for many cold-weather foreigners, the temperature is quite good.
Beaches near Olon
Important info
Olon can be your resting point to visit other Ecuadorian beaches: on the side of Santa Elena you have nearby Montañita, San Jose, Las Nuñez; and on the side towards Manabi there is Ayampe, Puerto Lopez and Salango.
If you need to withdraw money, the closest Wester Union is in Montañita.
Spanish classes are very good in this area.
In Olon you will find good accommodations and restaurants with different types of food.
What to do in Olon beach?
Quite apart from enjoying this beautiful beach towns, there are other activities you can do in Olon or nearby spots.
The beach has rental tents ($5 or $10) and public toilets ($0.25) for those who are just enjoying the day, but you can also find agencies that offer local tours.
Mini bars and restaurants in Olon
Along the beach you will find small cocktail stalls near the food outlets. In these mini bars you can order cocktails and have it delivered to your tent. Costs are around $3- $6.
The food stalls near the beach offer the typical gastronomy of the coast, or sometimes à la carte dishes. Here you can also ask them to bring your plate to your tent, or you can eat comfortably in their stalls. Dish costs range from $4- $10.
Olon also has a diversity of restaurants and coffee stores within the town, making it an excellent foodie destination. My recommendations:
La Churrería – the best churros you will find!
Bahiio – Argentine Restaurant – Excellent pastas and pizzas.
Marea Pizzeria.
La Galetita (here you will also find a skate bowl!)
Olon Espresso
Here is the map of restaurants in Olon:
---
Olon Sanctuary "Blanca Estrella de mar"
The Sanctuary of Olon is a boat-shaped church that is located on a rock in the highest part of the hill that separates Montañita and this beach town.

Its name is "Santuario Blanca Estrella del Mar", in honor of the Virgin of the Star of the Sea, and it was inaugurated on September 8 – 1984, the date of celebration of the birth of the Virgin Mary.

The beauty of this place is the view it offers: a great view of the sea and Olon. In addition, every Sunday there is a Catholic Mass that you can easily attend.
---
Water sports and surf in Olon
Olon is ideal for those who are just starting out in surfing. Its sea is relatively calm and its coasts are devoid of stones, which is ideal for beginners. In addition, it is almost never full of surfers or bathers who prevent you from practicing the sport.
Surf lessons in Olon cost between $20 and $25 the hour.

On the beach you can also practice windsurfing, sport fishing, bodyboarding or you can even rent jet skis and even get on the famous 'banana'.

If you don't have a bodyboard or surfboard, you can rent them by hour at various stands located near the beach. The cost per hour is around $2.
Swell: SW / NW / N
Category: beach break
Wave direction: left and right
Recommendation: mid tide, no wind
Best months: January and February
Observations: Be careful with bathers
---
Diving and snorkeling tours
This beach town has locals that offer diving and snorkeling tours in Ayangue beach.
There are one-day tours for tourists without a professional license (Discovery Diving without a license) or one-day tours for licensed divers. These activities are carried out in El Pelado Islet and are around $90 – $120.
Those with professional certification can also take the tour to see the giant manta rays, also in Ayangue, but in the Bajo Cope sector.
Finally, if you dare, you can take the 3-day Open Water Scuba Diver course to obtain a PADI diving license. The course is costing approximately $400.
In this publication you can learn more about diving in Ayangue .
---
Dos Mangas and Chongón Colonche Mountain Range Tour
The Dos Mangas commune is 30 minutes apart from Olon and offers a tour with natural attractions. You can discover its flora and fauna on foot or on horseback, and bathe in its famous waterfall and its freshwater pool.
The interesting thing about this tour is that you can see the fields of toquilla straw, a plant that is used to make the famous and original Panama hats or Ecuadorian toquilla straw hats (sombreros de paja toquilla).
You can also visit the Alex Waterfall, a 4 meter high waterfall. Besides, you can walk its trails that take you to a viewpoint.
This waterfall is located within a private property. To get there you must go almost to the end of the town (going south) in the direction of the mountain. It is 12 km from Olon. You can do it on foot, but the tour lasts 3 hours. Or you can do it by bike or quad that you rent in Olon.
The tour through the Chongón-Colonche Mountain Range is another natural attraction where you can appreciate the vegetation of the area (dry and humid tropical forest) and its fauna.
You can go by jeep or do quad tours or mountain bikes.
We remind you that there are also tour operators that offer you these tours.
---
Camping or paragliding in Olon
In Olon there is a camping area on the right hand side if you are facing the beach, passing the food stalls area and going towards the river. This is a good option if you are looking to save a budget.
Another activity that you can do is paragliding in places near the beach: in San Pedro, which is 30 minutes by car from Olon, or in Cerro Playa Bruja (Libertador Bolívar), which is 20 minutes from the beach.
The flight lasts 15 minutes and you do it accompanied by certified professionals. There are also tour operators that offer this service for an approximate cost of $30- $50 per person.
Also read:
Beaches for paragliding in Ecuador
Camping beaches in Ecuador
Hotels in Olon Ecuador
In Olon you will find hostels and hotels with comfortable prices per night that range from $15 to $35, depending on the place.
Don't forget that you also have the option of camping in Olon.
If you want something more luxurious, the price of accommodation can be raised:
Bed and Breakfast La Casa Naranja
¡Puedes conseguir un descuento Genius en Bed and Breakfast La Casa Naranja! Para ahorrar en este alojamiento, solo tienes que iniciar sesión.
Show price
Rincón d'Olón Boutique Hotel
★★★★
¡Puedes conseguir un descuento Genius en Rincón d'Olón Boutique Hotel! Para ahorrar en este alojamiento, solo tienes que iniciar sesión.
Show price
Vikara
★★★★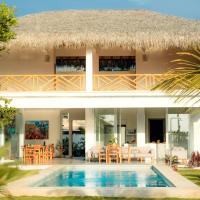 El Vikara se encuentra en Olón y ofrece WiFi gratuita, restaurante, piscina al aire libre y jardín.
Show price
Las Cabañas
★★★
Las Cabañas se encuentra en la localidad de Olón, a 400 metros de la playa más cercana, y cuenta con piscina al aire libre, bañera de hidromasaje y restaurante. Este alojamiento independiente se encuentra rodeado de un entorno natural magnífico y dispone de zona de cocina equipada con fogones.
Show price
La Mariposa Hostal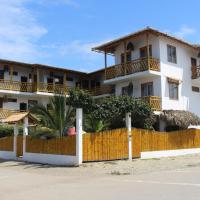 La Mariposa Hostal ofrece WiFi gratuita en todas las instalaciones y se encuentra en Olón.
Show price
How to get to Olon?
You can go by car or by interprovincial bus. There are those who also travel by taxi, although the cost to the beach is quite high (if you do it by taxi, it is preferable to travel in a group of four to spread the costs).
From Guayaquil
The trip from Guayaquil to Olon takes two and a half hours by car, and almost three hours by bus. The bus ticket from Guayaquil to Olon cost $6,25 at Cooperativa CLP (Cooperativa Libertad Peninsular), which is the only one that makes the direct trip to the beach.
You can also take other interprovincial buses that go north following the Spondylus Route. But many of these do not take you direct to Olon. In these cases you will have to get off in Montañita and then take a taxi (it will charge you $2) or get on any other bus that goes from south to north (they will charge you 0.50 cents) and from there get off at Olon beach.
From Quito
The trip by car from Quito to Olon lasts around 9 hours. On the map you can see the different routes to get to the beach.
If you travel by bus, you can take one to Puerto Lopez and from there take another from Cooperativa Manglaralto that takes you directly to Olon. Another option is to take a taxi from Puerto Lopez to the resort, although it will be a bit more expensive.
The last option, although a little longer, is to go to Guayaquil by bus and from there take another to Olon.