The first beach town after crossing the border with Santa Elena province (passing through Cinco Cerros mountain) is Ayampe. This beautiful surf town does not stand out as a common tourist resort like Montañita or Puerto Lopez, but it is ideal for those seeking a complete escape from the bustle of the city.
It does remind me a bit of Montañita of the 90s for its relaxed atmosphere, awesome surf lifestyle and because you will find more foreign tourists than nationals. But the town is really quite and still preserves its natural environment, with a lot of vegetation and little urban infrastructure.
Although most of its streets are not paved, Ayampe has good hostels to spend the days. It also has very good food places, so you don't need to leave the town.
Actually, Ayampe is intended for those who want to experience the natural environment typical of the Ecuadorian beaches, without the distractions of development and living in a chill community that make this surf town a magical place on the Manabi Coast.
Information about Ayampe beach
Location
Ayampe is located right at the end of the "Cinco Cerros" mountain range (Cordillera Chongón-Colonche), crossing the border with Santa Elena. It is 25 km north from Montañita and 17 km south from Puerto Lopez.
Try to go slowly while going through the mountains, especially if you travel at night. Crossing it completely takes about 25 minutes.
Weather
The average climate in Ayampe is 24 °C. The best time to visit is in the Ecuadorian beach season, which covers the months of December to April and whose temperature can reach up to 27 °C. But this season is also rainy and it usually rains a lot.
From May to November is the cold season, with temperatures that drop to 21 °C (cold for Ecuadorian coastal people) and quite dripping, although it is not rainy as in the beach season.
Nearby beaches
What to do in Ayampe?
Ayampe is ideal for those who love tranquility and nature, especially if you like hiking or surfing. So if you are one of those who just want to party, this beach town is NOT your place.
Its extensive virgin beach does not have nearby food stalls like other seaside resorts on the coast, but some hostels that face the beach do have their own bar-restaurants where you can buy cocktails. For example, we always buy cocktails at Ayampe Social Club.
But if you don't want to buy there, just remember to bring your cooler loaded with snacks and drinks, and your parasol. Also don't forget to pick up your rubbish when you leave the beach.
Activities in Ayampe
As we mentioned, Ayampe is ideal for those who like nature. Beyond its beautiful beach, Ayampe has hills inland where you can go on guided hikes and appreciate its flora and fauna.
These guided tours are offered by many local businesses: they take you to the hills and to the Ayampe River where you can photograph a diversity of birds such as seagulls, herons, pelicans, frigates, among others.
IMPORTANT INFO: Ayampe usually has very strong currents that become dangerous, especially for people who cannot swim. Although the town has lifeguards who are constantly watching the beach, it is preferable that on days of strong waves DO NOT enter the water.
In front of the beach you can see the Islote Los Ahorcados, a common spot where snorkeling, diving, sport fishing and kayaking take place.
You can also take whale watching tours from June to September. These tours can be purchased in Ayampe with local operators, or you can visit Puerto Lopez and do the tour from there.
On the other hand, this beach can be your starting point for other activities outside Ayampe: visit Los Frailes Beach, Isla de la Plata or other sites at the Machalilla National Park.
Ayampe is known for having more islets per square kilometer on the entire Ecuadorian coast.
Ayampe Restaurants
Inside the town you will find food places or cafe bars with more elaborate menus.
We first went to "La Cabaña del Corviche", a well-known food stall located on the side of the Spondylus Route, and we try the famous corviches that we recommend 100%.
Then we visit another place called The Barn where we order an American coffee accompanied by a delicious sweet.
Also read: Typical food of the Ecuadorian Coastal Region
Nightlife in Ayampe is quiet. In times prior to the pandemic, we ate at "PizzArte Trattoria" recommended to us at the La Buena Vida hostel (where we stayed) and then went to Selvamar , a small sushi bar-restaurant where we enjoyed live music and had a couple of beers.
We traveled again post-pandemic, and this time we had lunch in El Paso, a place that sells typical dishes from the Manabi Coast. And we also visited the Plazoleta Madre Tierra, a beautiful open market with several food stalls and cafes. Here we had a delicious avocado toast with american coffee atDistinto, and in the evening we enjoyed good tacos in Ayampe Tacos by Chef Alex.
This time we stayed at Otra Ola & Palma Coco, but we decided to camp. Here they give us a nice area to camp – few steps from the sea – at a cost of $15 per night for two people and include a bathroom, shower, and a communal kitchen.
We are sure that there are more places to explore on the beach, so in our next trips we will complete this tour guide to Ayampe beach. We only anticipate you that there are hostels that offer yoga courses, Spanish courses, among others.
Surf in Ayampe
Ayampe is a very important surf spot on the Ecuadorian Coast. Its beach is the only one that has a coastal reef in Ecuador, so it is common to witness constant tubular waves.
It also has north and south swells, with left and right waves.
It is also a spot for all levels of surfing, as its beach does not have rocks at the bottom (easy entry) and there are surf lessons for beginners. But it does have strong currents, so be careful. You can rent surfboards or bodyboards in most of the town's inns.
See also: Surf beaches in Manabi
Swell: S / SW / NW / N
Category: Beach break
Wave direction: left and right
Recommendation: mid tide, no wind
Best months: Every month of the year
Observations: Here are many beach breaks. When the wave passes 8 feet it closes quickly
Accommodation in Ayampe
Ayampe has a large number of places to stay whose prices range from $30 to $120 per night, depending on the place you choose.
Many of these accommodations offer different tours in and outside Ayampe, rent equipment such as surfboards or bodyboards and even offer yoga classes, Spanish classes, etc.
But if you feel adventurous, or are in low budget, you can camp. Accommodations such as Otra Ola & Palma Coco or Las Cabañas de la Iguana offer a quiet and safe camping area with good prices. But you must have your own camping equipment.
Also read: Beaches for camping in Ecuador
Here we list you a selection of accomodations in Ayampe:
La Buena Vida Hotel
★★★★
¡Puedes conseguir un descuento Genius en La Buena Vida Hotel! Para ahorrar en este alojamiento, solo tienes que iniciar sesión.
Show price
Cabañas La Tortuga
★★★
Las Cabañas La Tortuga se encuentran en Ayampe y ofrecen restaurante, piscina al aire libre, bar y jardín. El establecimiento cuenta con cocina compartida y barbacoa. Hay aparcamiento privado gratuito y servicio de alquiler de bicicletas.
Show price
Las Cabañas de la Iguana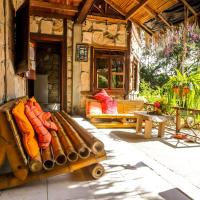 Este alojamiento está a 2 minutos a pie de la playa. Las Cabañas de la Iguana se encuentran en Ayampe y ofrecen jardín. Hay WiFi gratuita y aparcamiento privado gratuito.
Show price
Ganso & Búho
★★★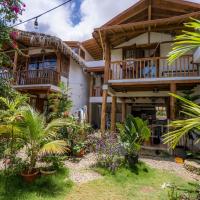 ¡Puedes conseguir un descuento Genius en Ganso & Búho! Para ahorrar en este alojamiento, solo tienes que iniciar sesión.
Show price
El Paso
★★★
¡Puedes conseguir un descuento Genius en El Paso! Para ahorrar en este alojamiento, solo tienes que iniciar sesión.
Show price
How to get to Ayampe?
From Guayaquil
The trip by car takes around 3 hours traveling through the Spondylus Route (roads E40 and E15). Remember to take the detour to San Pablo.
If you travel by bus, you can take one to Montañita (Cooperativa CLP) that costs $6.25. You get off in Montañita and then take another bus from Cooperativa Manglaralto that will cost you $1.50 – $2 and get off at Ayampe. Or you can also go by taxi, but it will cost you $15.
From Quito
The route is quite long. If you venture by land, the road will take you around 9 hours. By bus, you can take the Cooperativa Reina del Camino to Puerto Lopez, get off and from there take another bus from the Cooperativa Manglaralto or go by taxi.
Another way to arrive is by plane to Manta and from Manta take a bus from Cooperativa Manglaralto to Ayampe.
For more information about the beach town and its community, visit www.ayampe.info ( visit ).