Playa Rosada (Pink beach) is a former virgin beach in the province of Santa Elena that is known for its privacy and for being one of the most important natural reserves on the Continental coast of Ecuador.
It is also one of the most beautiful beaches in the country and an excellent spot if you want to spend a day completely relaxed. You will never find it dirty nor crowded with informal vendors, since it is considered a Protected Area.
Hence its extreme care and prohibitions. So, lets get to know a bit more about this beautiful beach resort.
Another protected area: Los Frailes Beach
Information about Playa Rosada
Location
Playa Rosada is located in a detour between Ayangue and Palmar (Santa Elena), at Km 37 of the Spondylus Route.
The detour is on the left side of the road if you go from south to north, or on the right side if you go from north to south.
Currently the entrance to the beach is marked with corporate letters that say "Playa Rosada". So, just in case, try to slow down when you are near the area because, otherwise, you can miss it.
Once you see the sign, you must enter through a sandy section where there is a sentry box. If you go by car, you will have to pay $2 which is the cost of the parking lot and you can be there until closing time.
Entrance to the beach is free.
Then you must advance along the sandy section, which has an approximate length of 1.8 miles, until you reach the beach parking lot. The car ride lasts around 10 minutes.
Weather
Like any Ecuadorian beach town, the climate depends on the time you visit it.
In the months of December to April, the weather is quite warm and hot, around 28ºC (83ºF). The use of sunscreen and a hat is important.
While in the months of May to November, the weather is cooler (for ecuadorian coastal people is cold!!) and there is a lot of wind and sea breeze. The temperature is around 23ºC – 20ºC (73 – 68ºF).
Why is it called Playa Rosada?
Despite its name, Playa Rosada (Pink Beach) does not have pink sand, although it does have a different color tone compared to the rest of Ecuadorian sand beaches that generally have brownish sand.
This is due to the corals and minerals that make it up and that at certain times of the day turn somewhat 'pinkish' when they mix with the sea (or so says the local people).
Prohibitions
The beach is part of the El Pelado Marine Reserve (Reserva Marina El Pelado) and is one of the seven resorts on the entire Ecuadorian Coastal Region where three species of sea turtles nest. Particularly one that is in danger of extinction: the Hawksbill turtle.
That is why you will notice that on the sides of the beach there are areas delimited with green nets (DO NOT confuse them with garbage cans), as they are the areas where turtles usually spawn. These zones are marked by the Ministry of the Environment.
Being a nature reserve, it is prohibited:
Pets.
Coolers.
Throw away garbage.
In addition, due to the pandemic, you must arrive at the beach with a mask. They will take your temperature and they will put alcohol on you.
Five of the seven species of sea turtles that exist in the world are on the Continental Coast of Ecuador. And Playa Rosada, along the with Machalilla National Park, are the only two nesting sites for the Hawksbill Turtle in all of South America.
What to do in Playa Rosada?
The beach is intended for those who want to spend a quiet day, since it is not very crowded and those who visit it are only passing through and leaving.
You can rest in the cabins that are rented for $5, enjoy cocktails and the varied cuisine offered in the only restaurant in the area.
There are also toilets and showers. The bathrooms are free, but to use the showers you must pay $1.
The new thing about Playa Rosada is the incorporation of a sports area with Beach Tennis and Beach Volleyball courts.
How to get to Playa Rosada?
From Guayaquil
The journey from Guayaquil takes around two hours or two and a half hours by car. You must follow route E40 (Vía a la Costa) and at the detour to San Pablo, take route E15.
If you decide to go by bus, you must take any that goes in the direction of Montañita (such as Cooperativa CLP – $6,25). Just tell the driver to stop in Palmar beach and then you take a taxi to the resort (cost around $1 – $ 1,50).
From Montañita
The trip lasts about half an hour and you can take any interprovincial bus that goes from north to south.
I recommend you to get off at Ayangue beach and then take a taxi to Playa Rosada (it will charge you approx. $ 3,50), because if you get off at the entrance of Playa Rosada, you may not find vehicles nor tuck-tucks to take you inside the resort. And if you decide to walk, the sandy section will take you around 40 minutes – 1 hour to cover.
Hostels close to Playa Rosada
Ayangue is the nearest resort to Playa Rosada with the best hotel infrastructure.
My recommendation is that you stay in Ayangue, so you can get to know Ayangue and Playa Rosada.
You can also try Anguel Inn Cerro Playa Rosada hotel, the closest lodging to this resort.
Muyuyo Lodge
Este alojamiento está a 1 minuto a pie de la playa. Estos bungalows rústicos de bambú se encuentran en un pequeño acantilado situado frente a la playa de Ayangue y ofrecen vistas al jardín o al mar. Este lodge proporciona acceso directo a la playa y WiFi gratuita. Además, se pueden reservar actividades de parapente o excursiones de senderismo. El establecimiento está a 5 km del centro de buceo Islote El Pelado y facilita aparcamiento privado gratuito.
Show price
Playa Aventura Hotel
★★★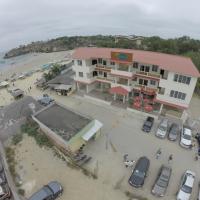 Este alojamiento está a 1 minuto a pie de la playa. El Playa Aventura Hotel se encuentra en Ayangue y ofrece restaurante, piscina al aire libre, bar y salón compartido. Este hotel de 3 estrellas ofrece WiFi gratuita, recepción 24 horas y servicio de habitaciones. Hay aparcamiento privado gratuito y servicio de alquiler de bicicletas.
Show price
Cucube
★★★
El Cucube se encuentra frente a la playa de Ayangue y ofrece jardín y WiFi gratuita. Hay aparcamiento privado gratuito y servicio de enlace con el aeropuerto por un suplemento.
Show price
Photos: All images in this publication are property of beachlifeecuador.com.