Isla Salango es una isla ubicada en el Océano Pacífico a 1,5 km de la comuna Salango, Puerto López, Manabí.
Forma parte del Parque Nacional Machalilla y es considerada área protegida, pues es hábitat de aves nativas de la región y de una inmensa fauna marina.
Históricamente la isla fue centro ceremonial de las antiguas culturas precolombinas que habitaron las costas ecuatorianas (Machalilla, Valdivia, Bahía, Guangala, Manteña y Chorrera). Es decir, fue un lugar de adoración y sacrificio a sus dioses.
La isla cuenta con una hermosa playa de arena blanca y aguas color azul turquesa, que sumado a la espectacular vista hacia la costa continental del Ecuador, brindan una experiencia única tras su visita.
¿Cómo llegar a Isla Salango?
A la isla se llega en lancha, bote o incluso en kayak. El viaje en lancha toma alrededor de 20 minutos partiendo desde Salango.
Nosotros tuvimos la oportunidad de visitar la isla movilizándonos en un kayak, partiendo desde Salango y remando aproximadamente 40 minutos. Realmente fue una bonita experiencia, aunque debes tener buena condición física y estar preparado para recibir sol.
Actividades en Isla Salango
La mayoría de actividades a Isla Salango parten de playa Salango o de Puerto López.
Entre las actividades que se pueden realizar están: snorkeling, buceo, descanso en la playa, kayaking y avistamiento de ballenas jorobadas en temporada de ballenas.
Ver también: Fechas de temporada de ballenas en Ecuador
La mayoría de tours a la isla incluyen refrigerios, guías certificados y equipos de inmersión (buceo o snorkel).
Los precios de estos tours van desde los $35 hasta $100 aproximadamente, dependiendo del tour a tomar (actividades), la cantidad de personas y la operadora turística.
Playa de Isla Salango
Es una pequeña playa de arena blanca con una increíble vista al mar y a la comuna Salango. En la playa podrás observar a las aves nativas del litoral ecuatoriano como piqueros patas azules, fragatas, gaviotas, pelícanos, entre otros; y en rara ocasiones, ver tortugas marinas.
Es importante recordarles a los turistas que está prohibido botar basura o realizar fogatas.
Snorkeling y buceo en Isla Salango
En Isla Salango se puede realizar buceo de superficie o de aguas profundas en su Parcela Marina, ubicada a 3km al sur si se parte de Puerto López.
Se pueden observar una gran cantidad de peces, arrecifes coralinos, concha spondylus y hasta tortugas marinas. Además podrás apreciar un extenso banco de coral blanco.
La profundidad de buceo es de 3 a 15 metros de profundidad. Y el grado de dificultad para la actividad es bajo por lo que no se requiere de experiencia previa, pero obviamente se te dará un curso si es tu primera inmersión.
Ver también: Lugares de buceo en las costas de Ecuador
Hospedajes cercanos
Lo más cercano es hospedarte en Salango, pero también tienes la opción de hacerlo en Puerto López (más recomendado) porque allá encontrarás varias agencias y locales que ofrecen tours a Isla Salango y a otros destinos del Parque Nacional Machalilla.
Nosotros, por otro lado, nos aventuramos a acampar en Salango en la Hostería Isla Mar, que se ubica en el tramo que se toma para ir al Mirador de Salango.
Esta hostería te ofrece una zona de camping (siempre y cuando lleves tus propios equipos) o habitaciones/cabañas.
El costo para acampar por persona es $8 el día, mientras que para alquilar una habitación es de $15 por persona el día.
El área de camping te ofrece baño, ducha, área para cocinar/comer y recorridos recreativos.
Pero lo mejor sin duda es su vista panorámica a Isla Salango, a la playa de Salango y a playa Piqueros. Imagínate amanecer, salir de tu carpa y apreciar la hermosa isla y el sonido del mar.
Ver también: Playas para acampar en Ecuador
Pero si te hospedas en Puerto López, acá te dejo algunas opciones:
Hotel La Costa International
¡Puedes conseguir un descuento Genius en Hotel La Costa International! Para ahorrar en este alojamiento, solo tienes que iniciar sesión.
Ver precio
Monte Líbano Suites
★★★
¡Puedes conseguir un descuento Genius en Monte Líbano Suites! Para ahorrar en este alojamiento, solo tienes que iniciar sesión.
Ver precio
House of Gates
★★★★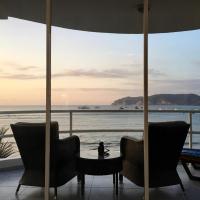 El House of Gates se encuentra en la playa de Puerto López, a 30 km de Montañita, y alberga un jardín tropical. El establecimiento cuenta con WiFi gratuita y aparcamiento privado gratuito.
Ver precio
Hostería Mandála
★★★★
¡Puedes conseguir un descuento Genius en Hostería Mandála! Para ahorrar en este alojamiento, solo tienes que iniciar sesión.
Ver precio
CASITA MADAME
★★★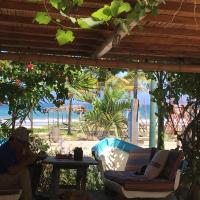 La CASITA MADAME se encuentra en Puerto López, a pocos pasos de la playa de Puerto López, y ofrece alojamiento con restaurante, aparcamiento privado gratuito, bar y jardín. Hay servicio de habitaciones, consigna de equipaje y WiFi gratuita en todas las instalaciones. El establecimiento ofrece habitaciones familiares.
Ver precio